♦ FALLING OR FLYING (INVITATION TO EDEN) is out NOW! KINDLE / NOOK / ARe / SMASHWORDS
♦ MR. BIG STUFF is out NOW!  KINDLE / NOOK / ARe / SMASHWORDS
♦ THE PLAYBOY'S MENAGE is out NOW at Amazon / ARe / B&N / Smashwords
♦ THE COWBOY'S KINK is out NOW at Amazon / ARe / Smashwords / B&N
♦THE CEO's FANTASY is now an ARe Bestseller!
♦July 2 2014 -THE CEO'S FANTASY
Available now in The Inkheart Authors Steamy and Sizzling Summer Reads Boxed Set and on it's own for .99 cents!
Set: B&N Amazon and single title: Amazon ARe
REVIEWS for Make Me Burn!
"RG Alexander's Make Me Burn is smoldering hot and sinfully addictive. I could not put it down. Seriously, this author owes me a lot of sleep right now. I can't wait for the next one." ~Lexxie Couper, author of Blame it on the Bass
"Alexander's follow-up to Burn With Me is super hot!…the storyline is engaging, chilling…This novel of the
Fireborne series is a scorching addition and will leave readers
simultaneously terrified and turned on." 4 stars RT Book Reviews

"This series has me by the heart, and will not let go!!" 4.5 stars and a True Gem-Guilty Pleasures
"Plenty
of erotic goodness…plenty
of emotion and character building, and a last half that will have you
on the edge of your seat, gasping in shock, and crying out for more."
4 stars Literal Addiction
May 20th 2014- MAKE ME BURN IS OUT NOW! Buy at Amazon B&N Samhain and more!
May 10-18th 2014 -At RT Convention in New Orleans!!
March 12th 2014- For all of you who have been patiently and/or manically waiting for the newest edition in the Shifting Reality Series…It's here! My Vampire Idol is now available. Thanks so much for all the fan mail letting me know how much you wanted to hear Mac' story;-)
March 5 2014- I have more amazing news! The Riding Desire Boxed Set has hit the USA Today Bestsellers list for the second week in a row, and now I just found out that we also hit the New York Times Bestsellers List!!! So, after I stopped hyperventilating I realized that I am now officially a New York Times and USA Today Bestselling Author! Thank you so very much to all you who have read Riding Desire and been so great to all of us in the anthology and everyone who told me they enjoyed Dirty Delilah! Thank you, Thank you!!!
Feb 26 2014- The Riding Desire Anthology has just hit the USA Today Bestsellers list. This means that I'm now officially a USA Today Bestselling Author!!! Woot!!! Thanks so much to all of you who got the Riding Desire anthology. If you still haven't checked it out, here's a link: Riding Desire! Only 99 cents for a limited time! 14 Bestselling Authors to heat you up with Bad Boy Bikers
♦ A new Boxe
d Set, just in time for Christmas! The Smutketeers Present: A KINKY XMAS CAROL 3 Hot ménage stories to heat up your stockings! Available everywhere for only 99 cents for a limited time!
♦ One tattoo shop in one infamous city sets the stage for 8 new novellas about resolutions, kink, love and ink…MIDNIGHT INK!
My contribution is called TO THE BONE, and it is set in the world of Bone Daddy. Available Now!!
♦ 8/27/13 BURN WITH ME is OUT NOW!
♦ 8/26/13 RT Book Reviews on BURN WITH ME "What an awesome start to a series! Alexander has spun an enticing fantasy world, and readers will be quickly drawn into the story. It's mysterious, enchanting and magically unique."
♦ 8/24/13 New Review for BURN WITH ME "This story sang for me!" vlog from The Book Tart!

♦ 8/23/13 New review for BURN WITH ME "It just blew me away. If you get the chance to read this book, jump on it." 5 stars from Love Books! Book Reviews
Read more Reviews HERE!

♦ 8/22/13 On The Book Tart blog having a lot of fun! Videos, a contest and more!
♦ 8/22/13 On Smutketeers with Mari Carr, Jayne Rylon and Robin L Rotham for Cowboys, Contests and Fun!
♦ 8/21/13 BIG BAD JOHN has been rated a True Gem by Guilty Pleasures Book Reviews!
♦ 8/18/13 BIG BAD JOHN is Available at Amazon/Nook/Smashwords and ARe now!
♦New Review for Burn With Me! "I highly recommend this book. It's unique, fresh, fun, sexy, and badass all rolled into one!" 4.5 Skulls from Literal Addiction -Read more Reviews HERE

♦ PRE-ORDER BURN WITH ME Today from Samhain / Amazon / Barnes & Noble
Read reviews and excerpt HERE!
♦ FOUR FOR CHRISTMAS is available as a FREE READ on Amazon from 8/5 to 8/9! Christmas in August!
♦ MARLEY IN CHAINS available as Free Read for limited time!
♦ WICKED SEXY is available as a Free Read for a limited time! Get your copy today!
♦ Signed three contracts with Samhain Publishing for new erotic Urban Fantasy series! Burn With Me will be out 8/27/13 and Make Me Burn will release 5/14 and Burn Me Down 10/14! Very excited to be able to follow one heroine and her fascinating entourage for the whole ride
♦ Marley in Chains has been getting fantastic reviews! Top Pick at Night Owl Reviews / 5 star review from Scorching Book Reviews / 4 stars from Guilty Pleasures / Love Books! Book reviews /
♦ Just wanted to share the holiday video I made with my group blog The Smutketeers and tons of other authors. All We Want For X-mas Is You!
♦ 12/14-12/18/12 To celebrate the release of MARLEY IN CHAINS–FOUR FOR CHRISTMAS is a FREE READ on Amazon until the 18th!
♦ 12/12/12 My novella in the Kinky Christmas Carol series- MARLEY IN CHAINS – is available now at Smashwords and Amazon and Nook!
♦ 11/3/12 I've been nominated! Geared for Pleasure, written by my alter ego Rachel Grace, has been nominated for a Bookie Award for best Steampunk!! Vote HERE
♦ My group blog, The Smutketeers, have decided to bring our unique spin to a classic holiday tale:
♦ Blog Tour! R.G. and her fellow Smutketeers members Eden Bradley aka Eve Berlin and Robin L. Rotham are doing a Smutacular Halloween Giveaway blog tour to celebrate their latest releases! The dates and stops will be:
-Oct 26th-Under the Covers
-Oct 27th-The Book Tart
-Oct 28th In Love With Romance
-Oct 29th- Bitten By Books
-Oct 30th-Harlie's Book Blog
-Oct 31st-My Secret Romance
Three winners will be chosen November 1st!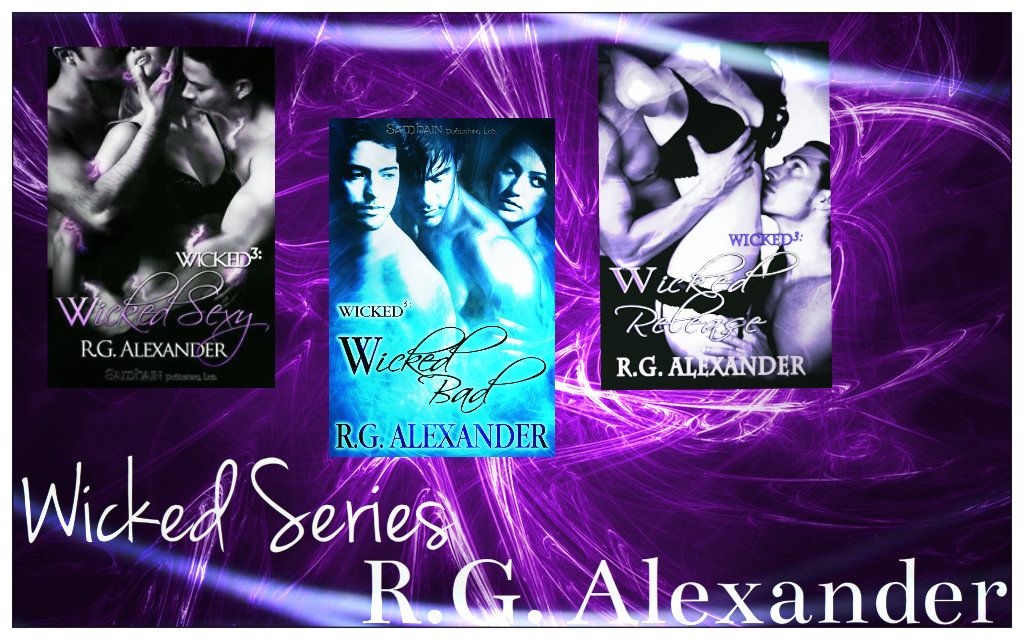 ♦ Look for Book 3 in the Shifting Reality series, MY VAMPIRE IDOL, in 2013!
♦ Book 3 in Wicked series, WICKED RELEASE, is available now on AMAZON and SMASHWORDS!!
♦7/26 THREE SINFUL WISHES WINS the 2012 Passionate Plume Award for Best Paranormal/Time Travel!!
♦ 6/10 THREE SINFUL WISHES is a Passionate Plume Finalist!
♦ Interviews and blogs where you will find me under my Rachel Grace pen name:
♦3/16 Saucy and Sinful Reviews-Interview and Giveaway
♦3/15 Under the Covers and great review HERE
♦3/14 Seductive Musings
♦3/12 Interview at Reading Between the Wines and a WONDERFUL Recommended Read Review at B&N Romance Blog!!
♦3/10 Literal Addiction Character Interview Blog followed by chat HERE at 4-5pm EST
♦3/9 Deb's Book Bag *Giveaway* -Review Here-
♦ Geared for Pleasure Countdown Party/Scavenger Hunt starting Monday March 5th on The Smutketeers!
♦3/2/2012 Re-doing my website. Heads up to Obsidian Dawn on deviant art for the beautiful brushes in my header. here's a link.
♦ Geared for Pleasure, my debut with penname Rachel Grace, will be out March 6th from Berkley Heat! Check out my new website!
♦ Four For Christmas was Joyfully Reviewed
♦ Feb 14th~ Won the 2011 CAPA Psyche Award for Wicked Bad!

♦ Tempt Me got 4 Stars from RT Book Reviews! (Releasing November 1st 2011)
♦ Upcoming Online Appearances:
October JERR Newsletter interview
October 17, 2011 at Forbidden Bookshelf
October 19, 2011 Denise Agnew's Blog
October 21, 2011 Under the Covers
October 24, 2011 DAMM Blog
November 3, 2011 Smutketeers chat @Kris Cook Chatters
November 4, 2011 Among the Muses
November 8, 2011 Blog with the Nine Naughty Novelists
♦ My author group The Smutketeers made the cover of RT Magazine!
♦ September 4, 2011 Eternal Guardian, Children of the Goddess Book 4.5 Max is available now!
At Amazon and Smashwords !
♦I have Facebook Author Page and Twitter. Follow me there!
♦ Three Sinful Wishes releases from Berkley Heat June 7th 2011! Available at Barnes & Noble and Amazon
♦ Had a brilliant time at RT 2011! Thank you to everyone who wanted me to sign your books…or anything else for that matter
♦ Possess Me finals in Passionate Plume contest, winners will be announced at the Passionate Ink Party RWA 2011

♦ Possess Me in Smackdown at Bitten by Books for best Erotic Romance of the Year!
♦ Book Review! RT Book Reviews gives MY DEMON SAINT 4 1/2 Stars!
♦ Online Appearance! Wednesday, March 9th, 5-6 PM PST (8-9PM EST) R.G. will be chatting live with her fellow Smutketeers on the Samhain Cafe Yahoo loop for their monthly Hump Day chat!
♦ Live Appearance! April 6-10, 2011: R.G. will be appearing at the RT Booklover's Convention in Los Angeles. She will be doing several books signings and sitting on the illustrious Fairy Court! See the RT Convention site for more information!

♦ 11.16.10~MY DEMON SAINT is out now from Samhain Publishing! Buy it now at Samhain or through Amazon!
♦ 11.16.10~Special contest at the Smutketeers blog to celebrate the release of MY DEMON SAINT!
♦ 9.14.10~ WICKED BAD is out now from Samhain Publishing! Buy it now at Samhain or through Amazon!
♦ 8.3.10 ~ POSSESS ME, R.G. Alexander's debut Berkley Heat novel, is out at now!
♦ 8.3.10 ~ MIDNIGHT FALLS, Book Four in the Children of the Goddess Series, is out in print from Samhain!
♦ 7.13.10 ~ TRULY SCRUMPTIOUS, is out at Samhain!
♦ 6.22.10 ~RT Magazine gives POSSESS ME (releasing August 3rd) 4 stars!
♦ 5.25.10 ~The Smutketeer WASTELAND Anthology, including WASTELAND:THE PRIESTESS, is out at Samhain!
♦ 5.21.10 ~
R.G. Alexander's TEMPT ME, an erotic contemporary paranormal romance, and the first book in Steampunk series, ELEMENTAL STEAM, to Kate Seaver for Berkley Heat, in a two-book deal, by Roberta Brown of the Brown Literary Agency.
♦ 4.28.10~ Received ARe award for Bestseller of 2009 for THREE FOR ME? (yay!)
♦ 3.30.10 ~ MY SHIFTER SHOWMANCE releases at Samhain!
♦ 3.27.10 ~
R.G. Alexander's THREE SINFUL WISHES, a three-novella single-author erotic anthology about the magic of Sedona, three friends, and one simple ritual that tempts them with their heart's desires, to Kate Seaver for Berkley Heat, by Roberta Brown of the Brown Literary Agency.
♦ 2.11.10 ~ WASTELAND: THE PRIESTESS, part of the WASTELAND Anthology with Eden Bradley, Crystal Jordan, and Lilli Feisty, Sold to Samhain Publishing for May 2010 Release!
♦ 1.26.10 ~ WICKED SEXY is out today at Samhain Publishing!
♦ 12.29.09 ~ I've been nominated for 3 CAPA Awards!
~ Favorite Author
~Favorite Erotic Author
♦ Psyche nomination for PIERCING THE VEIL (the cover art for this book has been nominated as well!)
♦ 11.11.09 ~ MY SHIFTER SHOWMANCE Sold to Samhain Publishing for March 2010 Release!
♦ 10.21.09 ~ WHO LOVES A SUPERHERO? Releases IN PRINT from Ellora's Cave
♦ 10.20.09 ~MIDNIGHT FALLS Releases from Samhain Publishing
♦ 9.15.09 ~WICKED SEXY Sold to Samhain Publishing for January 2010 release!
♦ 7.14.09 ~THREE FOR ME? Releases from Samhain Publishing
♦ 6.09~ Sold MIDNIGHT FALLS , Book 4 of the Children of the Goddess series to Samhain Publishing for October release
♦ 5.15.09 ~ Sold to Berkley Heat!
R.G. Alexander's BONE DADDY, POSSESS ME, a three-novella single-author erotic anthology about a sexually charged voodoo spirit, the people whose bodies he inhabits, and the mischief he creates, to Kate Seaver at Berkley HEAT, for publication in summer 2010, by Roberta Brown of the Brown Literary Agency.
♦ 5.12.09 ~ TWILIGHT GUARDIAN available at Samhain Publishing now!
♦ 4.29.09 ~ Signed with Brown Literary Agency!
♦ 4.15.09 ~ Contracted Three for Me? with Samhain Publishing for a July 2009 release!